In welchen Feldern sollte das Personalmanagements international aufgestellt sein? [weiterlesen]
In which fields should Personnel Management have an international set up? [read more]
(please find the English version on the second half of the page)
Üblicherweise umfasst internationales Personalmanagement folgende Felder:
Personalstrategie
Führung und Zusammenarbeit
Führungskräftevergütung
Performance Management
Stellenbesetzung und Personalauswahl, Auslandsentsendung.
Personalstrategie
Im täglichen »Trubel« läuft man immer Gefahr, die längerfristige Ausrichtung der Personalaktivitäten aus den Augen zu verlieren. Das ist ganz normal, aber auch gefährlich! Es lohnt, sich einmal oder zweimal im Jahr einen halben Tag Zeit zu nehmen und über die längerfristige Ausrichtung der Personalaktivitäten und des Personalmanagements nachzudenken. Was sind die Schwerpunkte der Personalarbeit und was nicht? Das ist Personalstrategie.
Führung und Zusammenarbeit
Mit guten Regelungen im Bereich Führung und Zusammenarbeit wird sichergestellt, dass Führungskräfte im Ausland ‒ aber auch im Inland ‒ die Mitarbeiter angemessen führen und informieren und auf diese Weise eine einheitliche Unternehmenskultur ermöglichen.
Führungskräftevergütung
Im Feld Führungskräftevergütung ist es u.a. wichtig, die Bezahlung so auszurichten, dass alle Führungskräfte weltweit wirklich »an einem Strang ziehen« und dass in den jeweiligen Ländern und Gesellschaften »die richtigen« Anreize gesetzt werden.
Performance Management
Bei Performance Management ‒ Mitarbeiterentwicklung und Training ‒ geht es um zwei Dinge: Zum einen um ein einheitliches Identifizieren, Fördern und Einsetzen von Führungskräften und von Nachwuchskräften. Zum anderen um das Training aller Mitarbeiter (1), besonders aber der Führungskräfte und der Spezialisten.
Stellenbesetzung und Personalauswahl, Auslandsentsendung
Schließlich geht es um die Stellenbesetzung und Personalauswahl im Ausland bzw. für die Auslandsgesellschaft: Sollen wir einen lokalen Mitarbeiter einstellen oder jemanden aus Deutschland ins Ausland entsenden?
Wenn ein lokaler Mitarbeiter eingestellt wird: Wie wählen wir den Richtigen aus? Wie geht das mit dem Arbeitsvertrag? Was soll der Mitarbeiter verdienen?
Und wenn ein deutscher Mitarbeiter des Stammhauses für längere Zeit in  der Tochtergesellschaft im Ausland als Auslandsentsandter, als sogenannter »Expatriate« arbeiten soll: Wie kann man das vertraglich vereinbaren? Was soll er verdienen? Wie geht das mit Steuer und Sozialversicherung? Brauchen wir eine einheitliche Regelung zur Auslandsentsendung? Und wie wird der Mitarbeiter nach seiner Rückkehr wieder in die Heimatorganisation integriert?
Eines ist noch wichtig: Die fünf hier genannten Felder des internationalen Personalmanagements passen für die meisten Unternehmen, aber sie passen nicht immer!
(1)   Aus Gründen der besseren Lesbarkeit wird bei Personenbezeichnungen die männliche Sprachform genutzt, die gleichermaßen für die weibliche und männliche Schreibweise steht.
Weitere Informationen zu Themen des Internationales Personalmanagements finden Sie in unserem neu erschienenen Buch  'Internationale Personalarbeit in der Praxis - Erfolgsfaktoren und Tools für mittelständische Unternehmen'  oder direkt bei uns:
Thomas Batsching, +49 171 752 4871/ batsching@hrworks-personalwerk.de.
-----------------------
(English version)
Typically, international HR management includes the following fields:
HR Strategy,
Leadership and cooperation,
Executive remuneration,
Performance Management,
Staffing and selection of personnel, international assignment.
HR Strategy
In the daily "huste and bustle" you always run the risk of losing sight of the long-term orientation of the personnel activities. This is normal, but also dangerous! It's worth to take half a day once or twice a year to think about the longer-term focus of HR activities and human resource management. What are the main focuses of HR work and what not? This is HR strategy!
Leadership and cooperation
Guidelines for management and cooperation ensure that executives abroad - but also in Germany - will adequately manage and inform employees, thereby enabling a uniform corporate culture.
Executive remuneration
For example, in the executive pay field, it is important to align pay in a way that all executives around the world really "pull together" into the same direction and that you provide the "right" incentives in the countries and enterprises.
Performance Management
Performance Management - Employee Development and Training - is about two things: On one hand, a unified promotion and development of managers and of young executives. On the other hand, the training of all employees, but especially of the managers and specialists.
Staffing and selection of personnel, international assignment
Should we employ a local employee in our subsidiary abroad or should we send someone from Germany?
If you hire a local employee: How do we choose the right person? How does it work with the employment contract? What should the employee earn?
And if a German employee of the parent company will work for a longer time in the subsidiary abroad as an "Expatriate": How about the contract? What should he earn? Tax and social insurance, how does this work? Do we need a policy for the assignments abroad? And how will the employee be reintegrated into the mother company after his return?
One more thing is important: The five fields of the international of HR Management mentioned here are suitable for most companies, but it does not always work!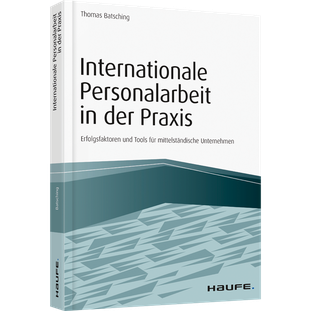 Further information conc. International Human Resources Management topics in our newly published book "Internationale Personalarbeit in der Praxis - Erfolgsfaktoren und Tools für mittelständische Unternehmen" (International Human Resource Management in Practice - Success Factors and Tools for Small and Medium-sized Enterprises) or directly from us:
Thomas Batsching, +49 171 752 4871/ batsching@hrworks-personalwerk.de