Lokaler Mitarbeiter oder Expatriate in unserer ausländischen Tochtergesellschaft? Was ist sinnvoll?  [weiterlesen]
Local Employee or Expatriate in our foreign subsidiary? What makes sense?  [read more]
(please find the English version on the second half of the page)
Sicherlich kennen Sie diese Situation: Ihr Unternehmen stellt sich mehr und mehr international auf. Sie haben entschieden, ein Vertriebsbüro auf einem anderen Kontinent zu eröffnen. Ideen, wie es danach weitergehen kann, haben Sie viele! ... in zwei Jahren eine Tochtergesellschaft gründen, dann auch Produkte vor Ort zur schnellen Belieferung der Kunden lagern, vielleicht mittelfristig sogar eine Fertigung?
Da ist es ganz normal, wenn Ihnen viele Fragen durch den Kopf gehen:
Wenn ein erfahrener Mitarbeiter aus Deutschland als Expatriate für längere Zeit dorthin gehen würde, würde dieser Mitarbeiter die Vorteile unserer Produkte natürlich perfekt kennen.
Andererseits: Die dortige Kultur ist ja völlig anders! Wird sich der deutsche Mitarbeiter da gut und ‒ vor allem ‒ erfolgreich bewegen können?
Klar, ein erfahrener lokaler Mitarbeiter kann das, aber kann man mit dem auch klar reden? Wird er unsere Produkte und unseren Markt überhaupt verstehen? Kann er »ein Gefühl« dafür entwickeln?
Und noch etwas: Wird der Mitarbeiter von dort unsere Unternehmenskultur verstehen? Und: Kann er unsere Unternehmenskultur dann auch vor Ort umsetzen und mit Leben
erfüllen? ... Fragen über Fragen!
Es geht aber nicht nur um kulturelle Themen, sondern auch um Themenfelder
wie:
▪▪ Kenntnisse und Erfahrungen,
▪▪ Kommunikationsmöglichkeiten,
▪▪ Kosten,
▪▪ Risiken,
▪▪ Arbeitsvertrag.
Im kommenden Blog erläutern wir die Vor- und Nachteile von Entsandten gegenüber
lokalen Mitarbeitern und stellen anschließend ein Konzept vor, das Ihnen bei der Entscheidung »Expat versus Local« eine erste Orientierung geben wird.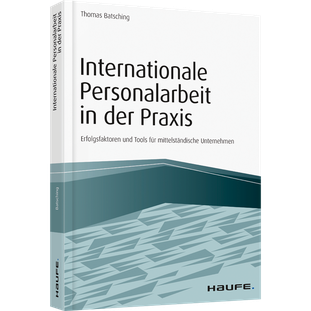 Weitere Informationen zu diesem Thema und zu allen weiteren Themen des Internationales Personalmanagements finden Sie in unserem neu erschienenen Buch 'Internationale Personalarbeit in der Praxis - Erfolgsfaktoren und Tools für mittelständische Unternehmen'  oder direkt bei uns: 
Thomas Batsching, +49 171 752 4871/ batsching@hrworks-personalwerk.de.
Rezension von Management-Journal: Sehr empfehlenswert. Hier mehr Details.

(wird in ca. zwei Wochen fortgesetzt. Hier geht's zu den seitherigen Artikeln der IHRM-Sommerserie 2018)
-----------------------
(English version)
Surely, you know this situation: Your company is becoming more and more international. You have decided to open a Sales Office on another continent. Ideas, how it can go on, you have many! ... opening a subsidiary in two years, then having stored products in a warehouse on-site for quick delivery to customers, maybe even a production in the medium term?

So, it is quite normal that many 'people'-questions go through your mind:

In case one of our experienced employees from Germany would go there for an longer period as an expatriate, this employee would of course know the advantages of our products perfectly.

On the other hand, the culture there is completely different! Will the German employee be able to work there as well and, above all, work successfully?

For sure, an experienced local manager can do that, but: Can I  talk clearly with this person? Will the manager fully understand our products and our market? Can this person develop "a feeling" for it?

And one more thing: Will the employee from there understand our corporate culture? And: Will this person being able to implementing our corporate culture locally and fill it with life?... questions about questions!

It's not just about cultural topics, there are also topics like:


▪▪ Knowledge and experience,
▪▪ Communication abilities,
▪▪ Costs,
▪▪ Risks,
▪▪ Employment contract.

In the upcoming blog we will explain the pros and cons of expatriates versus local employees and afterwards present a concept that will give a first orientation when deciding "Expat versus Local".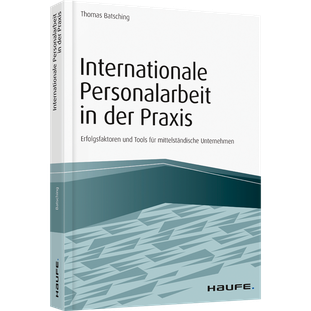 Further information conc. these issues and conc. International Human Resources Management topics in our newly published book "Internationale Personalarbeit in der Praxis - Erfolgsfaktoren und Tools für mittelständische Unternehmen" (International Human Resource Management in Practice - Success Factors and Tools for Small and Medium-sized Enterprises) or directly from us:
Thomas Batsching, +49 171 752 4871/ batsching@hrworks-personalwerk.de
(will be continued as IHRM summer series in about two weeks. Click here for earlier articles from the IHRM Summer Series 2018)